Kwik Dry Total Cleaning Business Opportunity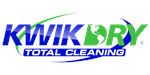 Kwik Dry Total Cleaning - Carpet, Upholstery, Duct Cleaning, Disinfecting & More Business Opportunity
Become a dealer and use the Kwik Dry brand to start your own multi-revenue cleaning business in your town or city.
Finance requirements

Minimum Investment: $9,995

Available areas

US
Profile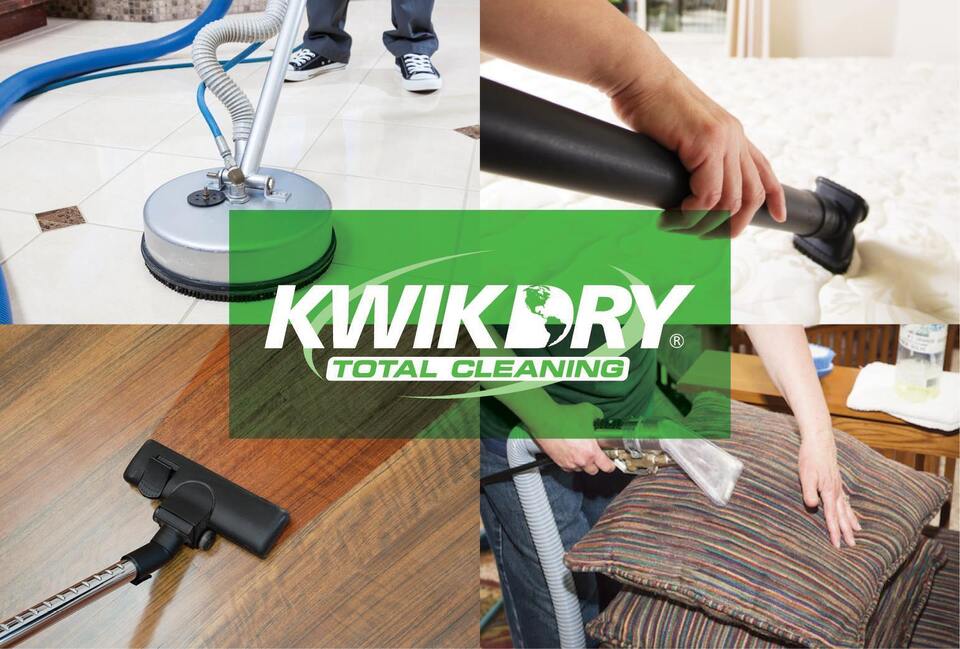 Become a member of the Kwik Dry Total Cleaning family.
Low Startup Cost • Home-Based • No Experience Needed
Kwik Dry Total Cleaning Company is just what the name says. We have created a total system of cleaning and disinfecting services and products that can clean safely, is environmentally friendly, and dries very quickly. These services include: carpet cleaning, upholstery, air duct cleaning, tile & grout cleaning, disinfecting services & more for a total multi-revenue business!
These special characteristics enabled our carpet cleaning company to diversify and now offer multiple services, to clean and disinfect any type of hard surface or fabric exceptionally well.
No one in the cleaning industry comes close to our fantastic results, great prices, honesty, and special products.
Benefits of Owning a Kwik Dry Dealership:
Low Start-up & Minimum Overhead: A Kwik Dry Dealership costs less than you think.
A Proven Business Model: With our 30 years experience, we'll show you how to run a profitable cleaning business.
Superior Product: Kwik Dry's proprietary cleaning formula outperforms any other solution or process.
Support of a National Brand: Enjoy all the perks of a franchise without the high costs and fees associated with one.
Sales & Marketing Resources: We'll help you look professional, build credibility, and grow your business.
Kwik Dry Dealer Package Options
Kwik Dry Base Dealer Package: Only $9,995 up-front investment + a low monthly licensing fee.
ADD-ON DEALERSHIP PACKAGES
Tile & Grout Cleaning Add-On Package + $2,500
Wood Floor Cleaning Add-On Package + $2,500
Air Duct Cleaning Add-On Package + $8,500
Explore all Kwik Dry Total Cleaning Revenue Opportunities
Carpet Cleaning
This is Kwik Dry's core service, available for homes and businesses. Kwik Dry's proprietary "Green Sealed" cleaning formula is 100% natural, environmentally friendly, fast drying and extremely effective at cleaning even the toughest stains.
Upholstery Cleaning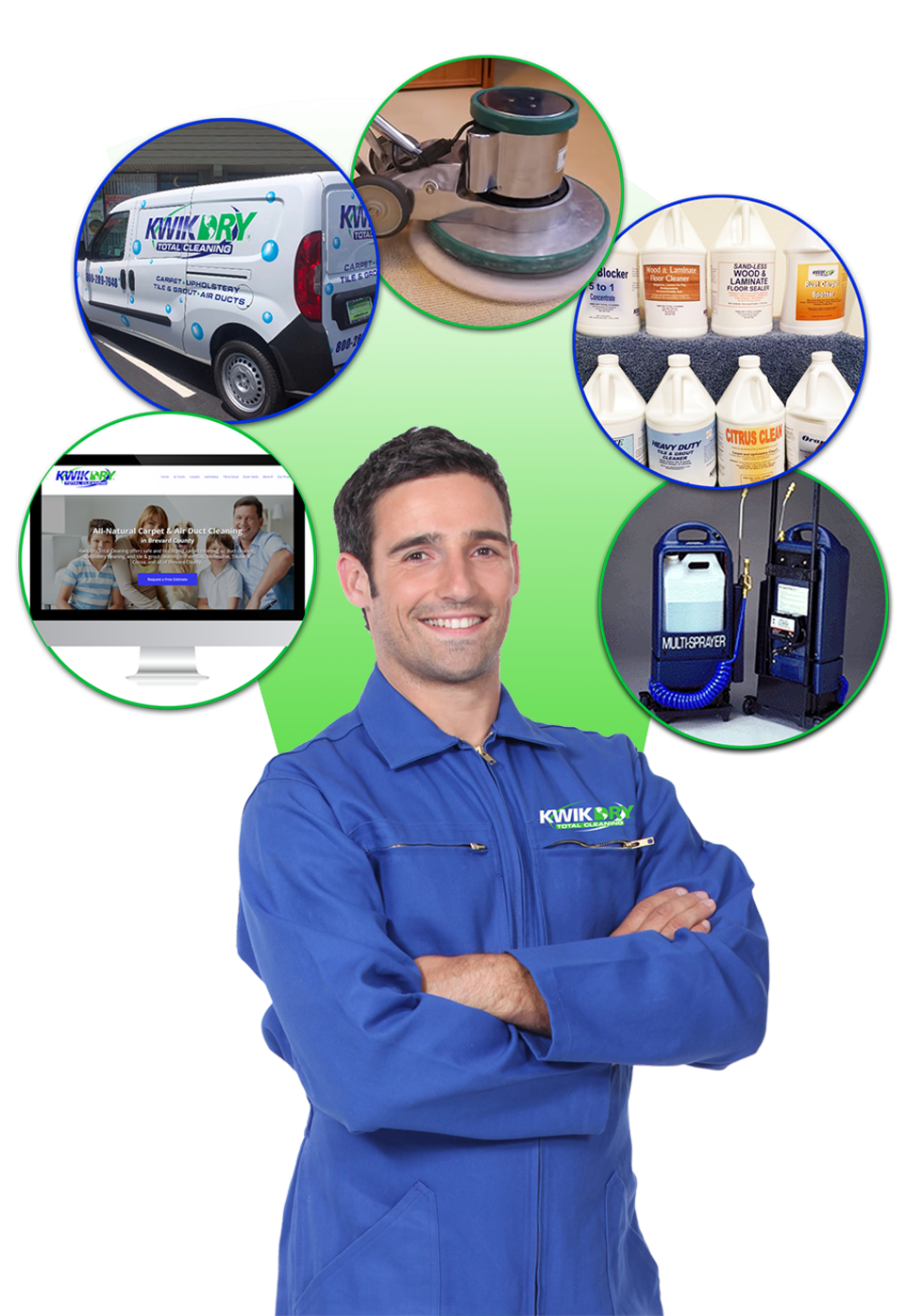 Kwik Dry's unique approach to upholstery cleaning protects cloth fibers that are often damaged by steam treatments. Our all-natural "Green-Seal Approved", oxygenated, citrus base is a vital part of our upholstery cleaning process.
Tile & Grout Cleaning
Kwik Dry's all natural, non acidic tile cleaning process is safe for all, and will leave your floors looking beautifully clean and smelling fresh. Because grout is a porous material, it will readily absorb dirt and spills leaving the grout looking discolored and dingy.
Wood Floor Cleaning
Kwik Dry's unique sand-less refinishing process is safe to use on all hardwood and laminate floors. Our special process cleans, seals and refinishes floors, adding new beauty to old floors.
Mattress Cleaning
Kwik Dry's mattress cleaning service will give your customers peace of mind and a good night's sleep by safely removing dirt, dust, mites and pet dander with our environmentally friendly cleaning solution.
Dryer Vent Cleaning
Clogged dryer vents are a serious fire hazard and affects your dryer's ability to properly dry clothes. That's why homeowners call Kwik Dry at least 2 times per year to have their dyer vents clean and to avoid build-up and potential safety hazards.
Air Duct Cleaning
Heating ventilation air conditioning systems (HVAC) are typically hidden from our view. Kwik Dry's state-of-the-art equipment and technology by RotoBrush ensures that we thoroughly and properly clean and decontaminate your air duct systems.
Boat Upholstery Cleaning
Kwik Dry's boat upholstery cleaning service helps keep boats clean, mold and mildew free, and always smelling fresh. Our equipment is portable and easy to carry, so you can easily clean boats on the water or at dock.
EVERYTHING YOU NEED TO SUCCEED
We provide all the equipment, training and support you need to run a successful Kwik Dry Total Cleaning Business.
Kwik Dry Dealership Rights for Your Town / City
Professional, Commercial-Grade Cleaning Equipment
Kwik Dry's Proprietary Cleaning Solutions
Supplies to Clean Carpets, Upholstery, Tile, Wood and More
Eye-Catching Vehicle Graphics with Kwik Dry Branding
On-Site Training, Mentoring and Ongoing Support
Multiple Revenue Streams for Maximum Earning Potential
Your Own Professionally Designed Websit
Sales & Marketing Resources to Promote Your Business
No Franchise Fees or Royalties
The Backing of a Nationally Recognized Brand
Get all the benefits of a franchise without the costs or restrictions.
If you are passionate about starting your own business, we give you all of the tools, training and support you need to be successful without any previous experience required.
Be in business for yourself. Not by yourself.