PJ's Coffee of New Orleans Franchise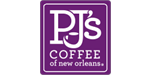 PJ's Coffee of New Orleans - Coffee Shop Franchise
A unique coffee franchise experience, join the franchise where success is freshly brewed.
Finance requirements

Liquid Capital: $100,000
Total Investment: $180,000 - $560,000

Available areas

USA
Profile
Rooted in New Orleans, PJ's Coffee has served small batch roasted, 100% Arabica coffee for over 40 years.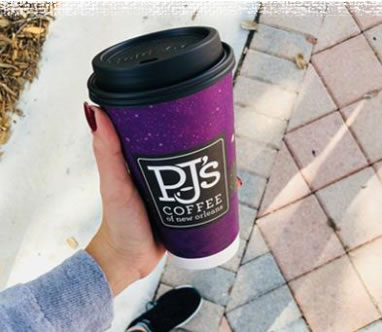 Located just blocks from the French Quarter in New Orleans, Roastmaster Felton Jones expertly roasts single origin and direct trade coffees. PJ's serves a complete line of Espresso-based Beverages, Flavored coffees, award-winning Original Cold Brew Iced Coffee, Frozen and Blended Coffees, Organic Tea, and features a full menu of freshly prepared breakfast and lunch options.
Why Franchise With Us?
Invest In The Best
Are you passionate about gourmet coffee? So are we! In many ways, coffee gives us the inspiration we need to get through busy days and long nights.
As a PJ's Coffee franchisee, you can help inspire members of your community to achieve their daily goals while you work toward your own. Personal freedom and professional success can be yours for the taking.
The top one third of franchised units average $670,289 in gross revenue*. We have also experienced four consecutive year of same store sales increase averaging 7.4%*.
For the past six years, we've seen exponential growth as our brand rapidly grew by 65%.
Our growth continues as we plan to open 23+ new units this year in target areas throughout the United States and international markets.
*Reference Item 19 in our Franchise Disclosure Document dated April 1, 2019 for more details
PJ's Coffee of New Orleans is currently accepting inquiries from the following states: Alabama, Alaska, Arizona, Arkansas, California, Colorado, Connecticut, Delaware, Florida, Georgia, Idaho, Indiana, Iowa, Kansas, Kentucky, Louisiana, Maine, Maryland, Massachusetts, Michigan, Minnesota, Mississippi, Missouri, Montana, Nebraska, Nevada, New Hampshire, New Jersey, New Mexico, New York, North Carolina, Ohio, Oklahoma, Oregon, Pennsylvania, South Carolina, Tennessee, Texas, Utah, Vermont, Virginia, West Virginia, Wisconsin, Wyom