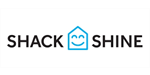 Shack Shine - House Detailing Franchise
Find freedom, autonomy and adventure by owning your own Shack Shine franchise.
Finance requirements

Initial Franchise Fee: From $45,000

Available areas

US & Canada
Profile
THE SHACK SHINE STORY

ESTABLISHING A NEW INDUSTRY
When you think of having your windows or gutters cleaned, which national brand comes to mind? None? Exactly! In this highly fragmented, locally-focused industry, there isn't one dominant brand. Shack Shine is changing that.
Partnered with powerhouse franchisor O2E Brands, the people behind 1-800-GOT-JUNK?, WOW 1 DAY PAINTING and You Move Me, Shack Shine has pioneered a brand new industry: House Detailing.
WHAT ATTRACTED US TO THE HOUSE DETAILING BUSINESS?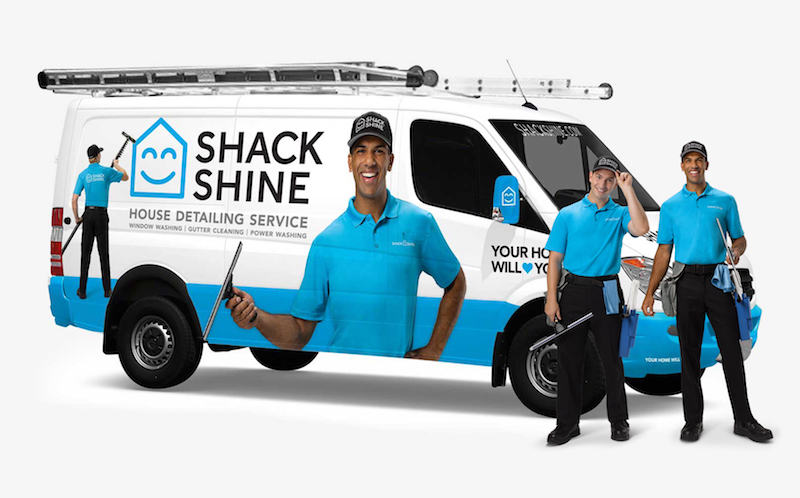 Revenue potential: the opportunity to capitalize on a piece of the $100 billion-dollar home service industry
Highly fragmented industry: the potential to become the household name for House Detailing
Recurring revenue: the security of repeat customers year after year
Low investment costs: start a business for around $70,000
High margin: need we say more?
THE

OPPORTUNITY

Find freedom, autonomy and adventure by owning your own Shack Shine franchise. Our proven business model, support, and systems reduce the risk of going into business for yourself, allowing you to amplify the freedom and control you have over your life by being a business owner.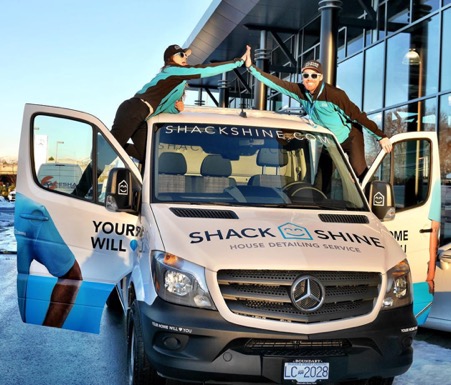 With corporate headquarters in Vancouver and a second office in Toronto, O2E Brands has developed systems that support and promote the Shack Shine brand and its Franchise Partners.
O2E Brands' proven record means Shack Shine benefits from nearly 30 years of home service industry experience and franchise systems. Backed by the knowledge and leadership of serial entrepreneur Brian Scudamore, Shack Shine has started a house detailing revolution! By bringing the same mind-set, enthusiasm and energy to House Detailing, Shack Shine Franchise Partners have the chance to be part of the next O2E Brands success story.
HOUSE DETAILING –
WHAT THE HECK IS THAT?
We're revolutionizing the Window Washing / Gutter Cleaning / Power Washing industry by providing a comprehensive, customer focused experience we call house detailing. You've heard of auto detailing, right? We do the same thing, but with houses. We give our customers' houses a thorough "detail", leaving each home positively shiny. In the Winter, our customers' houses shine even brighter with our Christmas Lights supply and install service.
WHAT ARE SHACK SHINE FRANCHISE PARTNER'S


REVENUE STREAMS?

All services are available year round.

SPRING SEASON: MARCH – JUNE
Window Cleaning
Gutter Cleaning
Surface Washing
House Washing
SUMMER SEASON: JULY AND AUGUST
FALL SEASON: SEPT – NOV
Window Cleaning
Gutter Cleaning
WINTER SEASON: NOV – JAN
AND THE BEST PART TO ALL OF THESE REVENUE STREAMS?
They repeat! That's the beauty of House Detailing: predictable recurring revenue.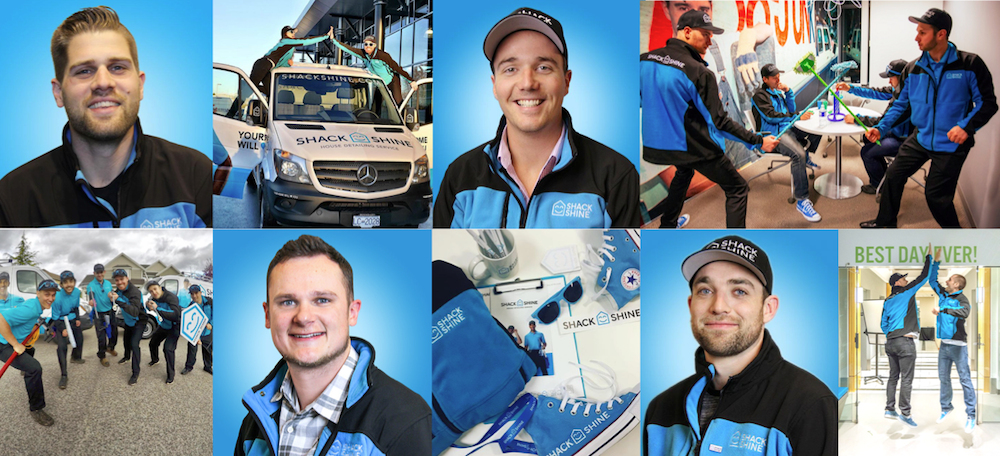 WHY OUR

FRANCHISE PARTNERS LOVE US
SALES CENTER
Our world-class sales center puts jobs on your schedule. Our team, based in Vancouver, Canada, takes customer calls so that you can focus on running the business.
REPEAT CUSTOMERS = RECURRING REVENUE
After their first experience with us, many of Shack Shine customers have us back to detail their house regularly! This easy source of recurring revenue grows your Shack Shine business quickly.
LIFE BALANCE
With predictable peak seasons throughout the year, it allows our work hard, play hard franchise partners a degree of flexibility to have a great work-life balance.
PROVEN SYSTEMS
The Shack Shine business model is based off of the systems and processes that made 1-800-GOTJUNK? an international, multi-million dollar home services brand. Nothing predicts success like a proven track record!
COACHING AND SUPPORT
We assign a Business Coach to each Shack Shine franchise partner who provides classroom training, in field training and weekly "Goal Set and Review" sessions to help guide the business.
PIPELINE
Our cloud based CRM and routing system allows you to see your jobs, plan your routes, monitor your revenue in real time, and track your marketing performance, among other things.
MARKETING & PUBLIC RELATIONS
You can focus on developing your business because we assist with Marketing and Public Relations.
WHAT OUR

FRANCHISE PARTNERS ARE SAYING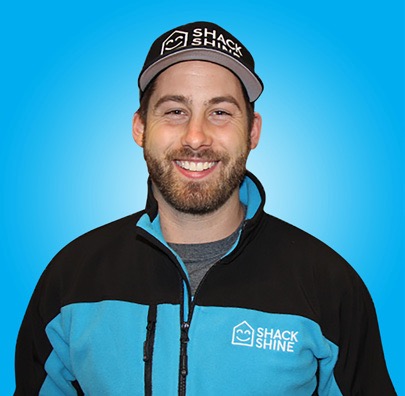 KIT HULBERT, Shack Shine Franchise Partner – Vancouver South, BC
"I joined the Shack Shine family in January 2016 and I'm very glad I did. The support I continue to receive is incredible. Any time that I have a question or a concern, I can just reach out to the team at head office. I know that without their help, I wouldn't be where I am today."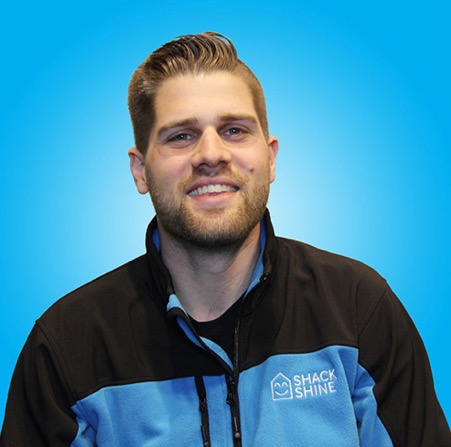 TAYLOR DUNN, Shack Shine Franchise Partner – Oakville, ON
"Shack Shine has provided me with an incredible opportunity to build a business in the town I call home. The systems and support in place give me the opportunity to focus on what's most important in my business – providing an exceptional customer experience every time! I've also learned so many new skills. Constant training and development from all teams continues to help me build a sustainable and successful business."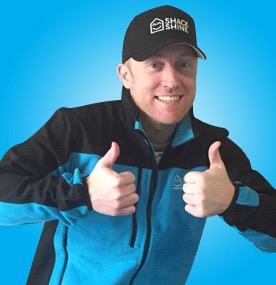 BEN COWAN, Shack Shine Franchise Partner – Twin Cities, MN
"The Shack Shine energy is palpable and contagious. Everyone in the business is willing to do whatever it takes to win. I've been a part of five franchise systems now, and the operational guidance and processes available with Shack Shine are the best I've seen. This makes it so much easier to focus on building an all-star team, and acquiring and serving our customers."
To learn more about our unique franchise opportunity and to find out what it takes, please contact us by completing the short form below.