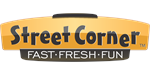 Street Corner - Convenience Store Franchise
Convenience store opportunity. Offer customers a friendly, attractive place to stop, take a break and buy that well-needed pick-me-up
 Watch Video
Finance requirements

Initial Franchise Fee: $24,900
Total Investment: $25,000

Available areas

Opportunities only available in areas throughout the USA
Profile
The Street Corner brand brings Franchise ownership within reach of anyone.
Now is the time to get in on the planning and building stages of your own franchise.
Offering comprehensive guidance from real estate selection to ownership and beyond - Street Corner is one of the easiest and most affordable ways to get into business!
Street Corner Advantages:
30 years of operation
Reasonable fee and royalties
Popular brands and products
Immediate customer base
Easy, fast start up
Store Options
"I have owned my own businesses all my life. Most of the businesses I was involved with were in the Malls. I am very happy to be a Street Corner Franchisee. I get unlimited support from Pete, Kalpesh and others in the office. Street Corner charges a very nominal franchise fee to start and a small royalty fee every month. I have always been treated like a partner, a friend and a part of the Street Corner family. I recommend Street Corner Franchise to everyone who would like to own their own business with low startup cost, below market royalty fee, and the world class help from the Franchisor." – Soloman Jiwani, Street Corner #20
Street Corner's franchise requires no previous experience, and provides all training and support for launching and operating your business. Our dedicated team has the resources to make your Street Corner successful. Offering 4 distinct store styles, we have the right model for your needs, plan, and site:
Street Corner - Gas Station

Upscale, inviting design
Touch screens at optional fuel pumps accepting orders and payments
Self-checkout and manned registers
Offering "finished to order" and prepared quality food

Street Corner - Urban Superette

Warm, fresh look with sleek, refined decor and highly visible branding elements
Street side location in a high-traffic, multi-use environment
Expanded product lineup including grocery essentials and fresh items
The neighborhood market in dense population areas

Street Corner - Mall Inline

High-traffic, high-visibility location
Economical start-up costs and long-term leases
Smaller size making them easier to staff, clean and stock
Captive audience that includes both shoppers and loyal mall employees

Street Corner - Mall Kiosk

Smaller footprint for minimal staffing and stocking
High-visibility location
Lowest build cost and overhead
"I have been a franchisee longer than anyone else in the current system. From the beginning, Street Corner was friendly and easy to work with. Their company is very professional and covered everything from opening in the morning to leaving at the end of the day. Owning a Street Corner store is the best thing I've ever done for my career and for my family." – Vick Patel, Street Corner #22
If you're ready to own and operate a Street Corner franchise, we're ready to make it happen. Contact us to get started today!
Videos
01 September 2015

Learn about the Street Corner Convenience Store Franchise